May 21, 2017: Jeff Schimmel, "How Do I Get My Script Into The Right People's Hands?"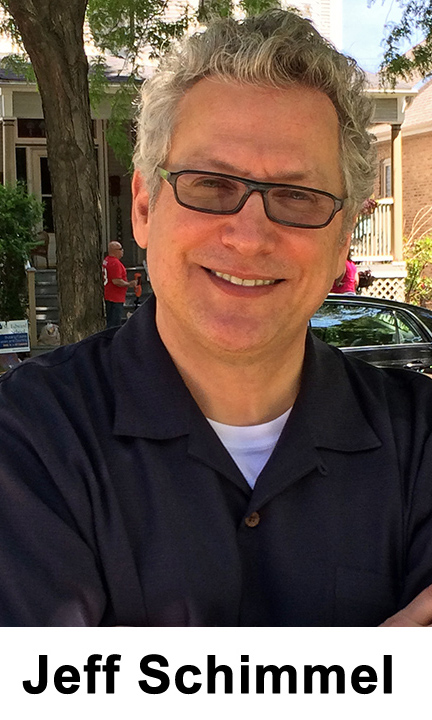 On Sunday, May 21st, 2017, Chicago Screenwriters Network is pleased to welcome back L.A.-based writer/producer Jeff Schimmel in advance of his scheduled two-day, all new MAXIMUM SCREENWRITING seminar on June 3-4. Jeff's topic for the May CSN meeting is, "How Do I Get My Script Into The Right People's Hands?"
Jeff Schimmel began his writing/producing career in the mid-Eighties while attending law school in Los Angeles. Rather than taking the California bar exam, Jeff wrote and sold his original Cold War spy thriller, Archangel, to Phoenix Entertainment Group. Soon after, Jeff was chosen by comic legend Rodney Dangerfield and award-winning writer/director Harold Ramis to write a full-length Warner Brothers animated film, Rover Dangerfield. Jeff sold the true life story, To See You Again, a World War II drama, to Steven Spielberg's Dreamworks Studios, wrote the dark comedy True Blue for Oscar-winner Martin Landau's Pentagon Pictures at MGM/UA, and has provided rewrite and script consulting services on numerous TV and movie projects in genres ranging from action/comedy films like A Low Down Dirty Shame to a cutting-edge TV variety show, Bargain Basement Late-Night, for Twentieth Television.
Jeff has appeared as a guest lecturer at L.A.'s famed Screenwriting Expo, is a popular speaker at prestigious universities and film schools, and is currently involved in developing unscripted reality TV projects with production entities such as ITV Studios, Lionsgate, GRB, Basil Street, Maverick/All3Media, and Anonymous Content. Jeff has also written/produced for BET, MTV, CMT, Cinemax, Canada's Paragon Productions, Caravan Pictures, etc.
As always, the meeting will be held at Mrs. Murphy & Sons Irish Bistro, 3905 N. Lincoln Ave., Chicago, IL. Mrs. Murphy & Sons Irish Bistro has revised their menu, so come out and enjoy a meal, hear good stories, and get acquainted with others that share your passion. Please register on Eventbrite to save your spot. Doors open at 5:30pm for networking, drinks, and dining. Jeff Schimmel's Skype session will start promptly at 7:00pm, followed by Q&A with audience members.
Admission is $10.00 in advance (which includes all Eventbrite / PayPal processing fees) or $20.00 at the door. As always, CSN annual members receive complimentary admission. In either case, please RSVP via Eventbrite:
CSN annual memberships are $75/year ($50/year for students) and can be purchased on the CSN website or at the registration table at our monthly meetings.
Mrs. Murphy & Sons Irish Bistro has a parking lot for guests two doors south of the restaurant at the SE corner of Lincoln & Byron. You can pay for street parking on Lincoln Ave., but note that side streets in the area do not require permits or payment for parking.
For those taking public transportation, the Irving Park station of the CTA Brown Line is a short three-block walk away from the Irish Bistro. Also, the 50 Damen and 80 Irving Park buses both have stops within a two-block walk of the Irish Bistro.
We look forward to seeing you the evening of Sunday, May 21ts!