Sun. Oct. 9th – monthly mtg. w/filmmaker Rujanee Mahakanjana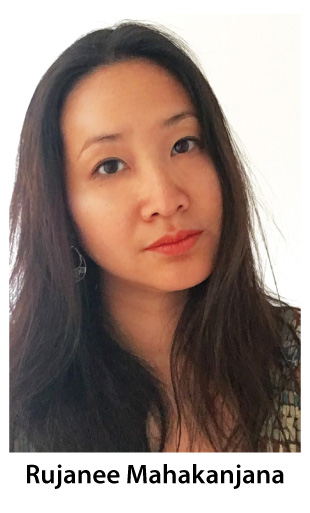 The CSN Speaker Series continues on Sunday, October 9th when our guest speaker will be filmmaker Rujanee Mahakanjana — a director, managing partner at Nebula Creatives, as well as the founder of the Shortcut 100 International Film Festival. Rujanee was born to a Thai family in Bangkok but has been living and working in Chicago for over 20 years. After completing her M.F.A. in Studio Art from Northern Illinois University, she has worked on a wide range of projects, from short videos to long-form film productions while teaching at colleges downtown. Her work contains thought-provoking existential statements, metaphors, and symbolism, as well as quirky humor. Her background in architecture has given her a firm foundation of an inside-out, physical and psychological meaning of "space" in her visual work.

Her directorial debut started with "Man and His Erections" (documentary feature, premiered at the Gene Siskel Film Center in 2009) and "Parallel Universe" (fantasy narrative feature, 2010), a short existential film entitled "Out of Sight" (premiered at 68th Festival De Cannes, Short Film Corner, 2015), and "Light My Fire: The Burlesque Diaries" (in-development documentary feature, Finalist at American Documentary Film Festival and Film Fund 2015).
For the past 6 years, Rujanee has also been developing a groundbreaking sci-fi feature film, "Lab 99." Its prequel is currently being produced as a graphic novel to be released in 2016.
Admission is $10.00 in advance (which includes all Eventbrite / PayPal processing fees) or $20.00 at the door. As always, CSN annual members receive complimentary admission. In either case, please RSVP via Eventbrite:

CSN annual memberships are $75/year ($50/year for students) and can be purchased on the CSN website or at the registration table at our monthly meetings.
Doors open at 6:00pm for networking, drinks, and dining. Jim's presentation will commence at 7:00pm, followed by Q&A with audience members.
Mrs. Murphy & Sons Irish Bistro has a parking lot for guests two doors south of the restaurant at the SE corner of Lincoln & Byron. You can pay for street parking on Lincoln Ave., but note that side streets in the area do not require permits or payment for parking.
For those taking public transportation, the Irving Park station of the CTA Brown Line is a short three-block walk away from the Irish Bistro. Also, the 50 Damen and 80 Irving Park buses both have stops within a two-block walk of the Irish Bistro.
We look forward to seeing you the evening of Sunday, October 9th!